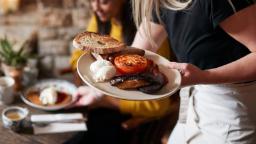 明尼阿波利斯
美國有線電視新聞網
—

美聯儲偏愛的通脹指標在前一個月意外上升後,在 2 月份回落,這是美聯儲為壓低歷史性價格漲幅而進行的長期鬥爭中的一個可喜跡象。
美國商務部周五報告稱,截至 2 月份的 12 個月個人消費支出價格指數上漲 5%,低於 1 月份向下修正後的 5.3% 漲幅。
按月計算,價格上漲 0.3%,與 1 月份 0.6% 的漲幅相比有所降溫。
根據 Refinitiv 的數據,經濟學家預計月度增長 0.2%。
瑞穗美洲的美國經濟學家亞歷克斯佩爾表示,最新的通脹報告正朝著美聯儲希望看到的下行方向發展,但速度有點太慢了。
"[Inflation is] 從一個非常高的水平非常緩慢地下降,"他在接受采訪時告訴美國有線電視新聞網。 "每個月都有很大的波動,但當你將其平均化時,你看到的是我們並沒有變得更糟,我們可能會好一點,但對市場來說還不夠快,而且可能不會與美聯儲一年前開始時預期的一樣快 [raising interest rates to combat high inflation."
The core PCE index, which excludes the more volatile food and energy categories, showed prices increased 0.3% on a month-on-month basis and rose 4.6% on an annual basis. In January, the core PCE index was up 4.7% year-over-year.
Consensus estimates from economists forecast the core PCE index would rise 0.4% from the prior month and 4.7% year over year.
PCE, specifically the core measurement, is the Fed's favored inflation gauge since it provides a more complete picture of costs for consumers.
Consumer spending rose 0.2% in February, representing a sharp cooldown from January's hot reading (which was upwardly revised to 2%), according to the report. Adjusting for inflation, real spending declined on a monthly basis by 0.1%.
Personal incomes grew 0.3% last month and the personal savings rate, which is personal savings as a percentage of disposable personal income, gained 0.2 percentage points to 4.6%.
"Consumer spending in early 2023 is running well ahead of its pace in the fourth quarter of 2022," Gus Faucher, PNC chief economist, said in a statement. "With consumer spending making up about two-thirds of the overall economy, this points to strong GDP growth in the first quarter of this year. In particular, income gains are supporting consumer spending growth."
The surge in spending seen in January was potentially driven in part by one-time boosts in incomes from upward cost of living adjustments to pay, Social Security payment increases, and ongoing strength in the labor market, said Kayla Bruun, economic analyst at decision intelligence company Morning Consult.
The February PCE data combined with Morning Consult's consumer survey results from March show that the January boost was likely unsustainable.
"What we've seen over the past two months is this gradual return to more of the trends that we were seeing in late 2022, which was this accumulated weariness with dealing with these price increases," Bruun told CNN. "And even if the price increases aren't as sharp as they were and inflation overall isn't as high as it was, it's still too high."
The stubbornly high inflation has caused a slow bleed in household finances.
"I see it as this gradual, ongoing strain, and it's slowly draining the savings, it's slowly causing credit to creep up," Bruun said.
During the past year, consumers have turned to credit in unprecedented fashion.
Six of the seven largest monthly increases in revolving credit in nearly 55 years of record-keeping occurred within the past year, Fed data shows.
And that credit is becoming more expensive with every rate hike, and it very well could become even harder to obtain in the wake of the banking upheaval, said Shannon Seery, vice president and economist for Wells Fargo's corporate and investment bank.
"Consumers are relying more on credit than they have previously, but it's not the driving force of spending," she said. "So even if we do get a pullback on credit reliance in the household sector, I think in the near term that households can still rely on some of this liquidity they have. And more importantly, the income picture is looking favorable because the labor market has remained tight."
But if the labor market starts to take a turn for the worse, that would likely dampen the spending outlook, she said.
"If you do get some declines in income, or you don't get this trajectory of income growth remaining positive for quite much longer, I do think not having access to credit would mean you do get a more significant pullback in spending — more so than potentially if this crisis never happened," she said.
Deteriorating consumer finances will soon show up in the numbers, Moody's Investor Service analysts said Friday.
Credit card charge-offs at American Express, Capital One and Discover were 3.16% in February, up from 2.86% in January, according to the Moody's report. Delinquencies were up slightly, to 2.69%.
Moody's expects credit card and auto loan delinquencies and charge-offs to continue to rise and soon eclipse 2019 levels.
A separate report issued Friday by the University of Michigan showed that consumer sentiment slumped in March, falling for the first time in four months.
The university's closely watched consumer sentiment index fell to 62, down from 67 the month before.
"This month's turmoil in the banking sector had limited impact on consumer sentiment, which was already exhibiting downward momentum prior to the collapse of Silicon Valley Bank," Joanne Hsu, director of the University of Michigan's Surveys of Consumers, wrote in a statement accompanying the report. "Overall, our data revealed multiple signs that consumers increasingly expect a recession ahead."
Sentiment declined on both the current economic conditions front as well as longer-term, according to the report.
However, year-ahead inflation expectations did fall from February's 4.1%, landing at 3.6% in March, notching the lowest reading since April 2021. Long-run inflation expectations were 2.9% for the fourth consecutive month.
Friday's PCE data, on its own, likely won't sway the Fed from pursuing additional tightening, said Quincy Krosby, chief global strategist with LPL Financial.
"This report, however, does little to suggest that the Fed, absent any more upheaval in the banking system, will refrain from a May interest rate hike," Krosby said in a statement, referencing the recent weeks' regional banking turmoil. "Still, should financial conditions tighten markedly between now and the May Fed meeting, with loan growth slowing materially, the Fed could consider its job being helped by more stringent conditions."
With core PCE still well above the Fed's 2% target, Wells Fargo economists said in a note Friday: "We'd summarize the inflation development as a step in the right direction, but we think the elevated readings keep the heat turned up on the Fed, and thus still expect the Fed to hike rates an additional 25 bps [quarter point] 在 5 月的貨幣政策會議上。"
在 5 月 2 日至 3 日美聯儲會議之前仍有大量數據要發布,下週將是了解勞動力市場最新情況的關鍵一周,包括 3 月就業報告、2 月職位空缺和勞動力流動調查報告,以及反映私營部門招聘和裁員的新數據。